By Li Yang (China Daily)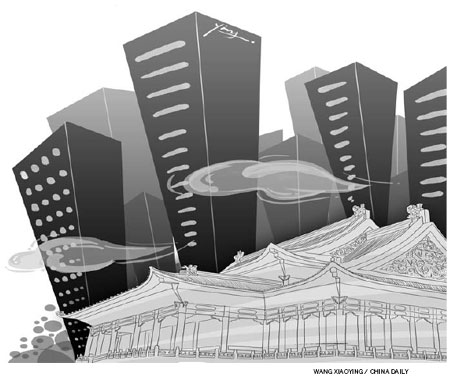 For the past 20 years, Western countries have mistaken urban sprawls as the symbol of urban development. The car-dependent lifestyle this mistake has created is, in fact, a failure of urban development.
"Urbanization is not synonymous with urban sprawl," says Ting Ho Cheung, a registered architect and member of the Architectural Institute in British Columbia, Canada. "Urbanization should be a process of sustainable densification with respect to urban ecology. It should eventually upgrade a city into a metropolis," says Cheung, who is also an accredited professional for Leadership in Energy and Environmental Design.
Advancing urban infrastructure creates a livable density in a metropolis. But a city should preserve the green space needed for the healthy physical and mental development of its residents, he says. "Every nation should have its own definition of livable density according toits culture."
But American-style urban sprawls have exerted too strong an influence on developing countries such as China. Over the past 20 years, North America has promoted an image of suburbia living as a dream lifestyle for the middle class: single houses with big lots, huge landscape, a double-parking garage with gas-guzzling SUVs driven to work, school, other facilities and even groceries. Cheung says: "It is the (handiwork of) marketing cheats promoting a chain of business like automobiles, oil and gas, and bulk sales of consumer products."
This is not a lifestyle suited to Asians. This wrong vision initiated the illusion of increasing urban sprawls, which has mistakenly become the main strategy for urbanization. "The radiating-style city expansion devours lots of land and materials for unnecessary infrastructure like highways,water supply and power. It intensifies traffic problems on main commuting roads from a city's outskirts to downtown" where most of the workplaces and other facilities are situated.
The global financial crisis dealt a fatal blow to the myth of this over-consuming lifestyle. It will take years for the West to pay off the price of promoting and practicing this wrong lifestyle.Little wonder then that the public quest for sustainable living and embracing environment-friendly urban planning has gained ground. This movement will help preserve land resources for future generations and force a rethink on the nature of urbanization.
"Because of this sustainable consciousness, they (Americans) have dropped the gas-guzzlingHummer and are picking up bicycles. Then why did we Chinese try to buy their abandoned Hummer and drop our own sustainable bikes?"
Cheung says Chinese people should learn from the West's failure to protect nature, and preserve the ancient Chinese wisdom of sustainable living in houses that promote family harmony.
He cites hutongs (alleys) lined with siheyuans (traditional courtyard houses) as an example.The micro planning in hutongs should be expanded to the macro scale to develop a sustainable Chinese urbanization pattern, he says, and sustainable suburban communities should be developed around Beijing to solve the overcrowding problem. "To attract people from downtown, these communities should be self-sustainable, offering most of the urban facilities and working opportunities such as green industries and environment-friendly houses,and have necessary amenities within walking distance."
Actually, old-style Chinese planning and construction are examples of eco-friendliness. Ancient Chinese planning and architecture summarize the mental and physical criteria to create better living conditions - for example, the bathroom door should not face the kitchen or bedroom.
A siheyuan is a successful sustainable design for a naturally ventilated house. "It signifies a living experience that has evolved from the respect for family; it not only respects and protects women and the elderly, but also provides enough room in the house for pleasant moments to bring mental comfort to all members of the family." Cheung argues that these cultural heritages are unique to Chinese wisdom and have attracted worldwide attention.
Many other examples can be found in China of the past and present to show eco-friendly construction is anything but a monopoly of the West. Chinese people should confidently seek more inspiration from their history to better understand modern eco-friendly construction,which promotes sustainability and offers better living quality.
Appreciation of local culture is the foundation of every sustainable design. The application of a globally prevalent building design without proper understanding of the local culture and history will result in failure. The building patterns of houses in the East and West have to be different because of the differences in culture, climate and ecology.
Architecture is engraved history in the form of buildings. And it is our history that makes us one of the seven great civilizations, Cheung says. Applying the concept of ancient Chinese architecture and planning for urban development today will enhance the core values and help preserve the priceless masterpieces that define our history.
Balancing antiquity and modernity should start by enquiring into the core values of our civilization. Chinese civilization has developed over thousands of years to embrace the values of respect and harmony. That's why a marriage of historical elements with modernization will ensure fast but sustainable development, and would be in the greatest interest of the people.
(China Daily 08/26/2011 page9)